I can't believe Thanksgiving is next week; I can't believe next week is the last week of November; I can't believe Christmas is just a few weeks away! What I can believe is that I have some yummy recipes that your guests would be thankful for this Thanksgiving. 🙂
I'm going to be honest; I have never cooked a whole turkey before. I've cooked turkey breasts with modest success. But a whole turkey terrifies me. Admittedly, unless I am cooking for a crowd, a whole turkey is a lot for one person. At least that's the excuse I like to use! But everything else, I am pretty comfortable making, so if you're still trying to figure out your Thanksgiving menu … may I suggest the following:
Appetizers or Snacks
I love artichoke dip. It's something I probably wouldn't have enjoyed as a child—too weird&#8212but as an adult, it's one of my favorite appetizers. I love it's versatility. Artichoke Dip with Goat Cheese puts a tangy spin on a classic dip while Spicy Roasted Garlic Spinach Artichoke Dip has a tiny bit of kick with the addition of jalapeños and roasted garlic. I like to pretend the spinach makes it a good-for-you dish!
Toffee Dip is kid and adult-approved. It's one of my favorite dips to bring to potlucks. It's so yummy and a little bit crunchy (as long as you add the toffee chips right before serving) and since you serve it with apple slices, you can once again pretend it's good for you.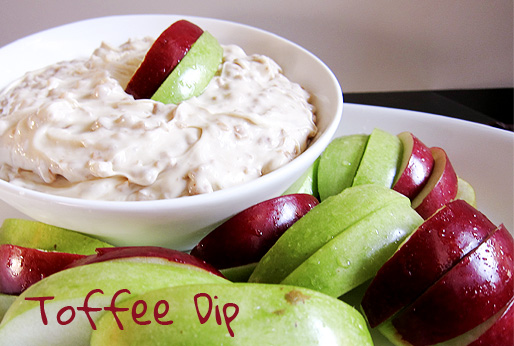 Beverages
I look forward every Fall to apple cider being stocked at the grocery stores. I love it's crisp, sharp taste. Pair it with some homemade salted caramel sauce for a rich Caramel Apple Cider and you have a beverage made in heaven. You can easily throw this in a crockpot and let people serve themselves throughout the day.
Side Dishes
Some enjoy serving soup as a starter or as part of the meal. While we generally don't, it would be wrong of me not to include this savory and creamy Butternut Cider Bisque. You could easily make this a day or two in advance and reheat on the big day.
I love green bean casserole and I particularly love this version. It cooks in the crockpot, giving you more space in your oven and it's crunchy. It includes your typical french fried onions and almonds but also gets an extra little crunch from water chestnuts.
Veggies aren't always the most popular dish but my Mom's Creamy Sweet Corn is a huge hit with everyone. It's so rich with just a hint of sweetness. Everyone in my family loves this dish and I think if my Mom made something else, there might be a riot! Even better, it's really simple to make.
If you asked me what my favorite Thanksgiving dish is, the answer is simple—stuffing. Or dressing. Same thing in my book. I love it. I would definitely skip dessert for another scoop of dressing. This recipe originated from a former landlord but my Mom has perfected Crockpot Stuffing throughout the years. I already told my Mom that I wanted her to make it when I come home for Christmas. Can't wait!
Desserts
I'm big on tradition so I usually enjoy a piece of pumpkin pie on Thanksgiving, but I'm not a huge fan of pumpkin. I don't dislike it but often times it can be a bit dry. And well … I haven't mastered pie-making yet. So while I can't offer you a scrumptious pumpkin pie recipe, I do have a variety of delicious desserts to tempt you and your guests.
I love apple crisp as is. But it becomes something truly special where you pair it with salted caramel or cranberries. My Apple Cranberry Crisp is the perfect blend of sweet and sour while my Apple Crisp with Salted Caramel Sauce is so rich and decadent. Both make great Fall desserts and are perfect for Thanksgiving.
I love cranberries. Perhaps because you really only find fresh in the Fall, so they are something I look forward to every year. Cranberry Cake with Butter Cream Sauce puts those cranberries to good use. A nice moist cake with juicy tart cranberries covered in the richest, creamiest sauce imaginable. Delicious!
Another non-traditional but incredibly easy dessert (almost to the point that it's embarrassing!) is my Snickers Ice Cream Pie with Caramel Sauce. Yes, I have a thing for caramel sauce. Love it, love it, love it. This is one of the easiest desserts to make, which is extra nice during the busy holiday season.
Max and I wish everyone a wonderful Thanksgiving, full of good food and cheer! We will be taking next week off, so we can give thanks for our many blessings and get a little R&R in before we dive into Christmas. We, of course, will be back in action in December with some great candy recipes and our annual Christmas story.
Happy Thanksgiving!