Sorry that there have been so few posts lately. As Max mentioned in his ramblings last week, I had a bout of stomach flu last month. Thus, cooking wasn't on my agenda. 😀 But I'm back with some delightful things planned. Now we just have to cross our fingers and hope everything turns out. To be fair, some won't. It's just the nature of the beast. Not every dish is a winner; some are epic fails.
I don't talk a lot about those dishes because they make me grumpy. Not so much because I feel like a failure, but because I hate the expense of wasted food. Sometimes I can endure and eat the not-so great meals begrudgingly. Sometimes I cannot. 😀 I will make myself sick and nobody wants that, especially me!
Fortunately, the dish I'm sharing today was an epic success and I love it so much. My Burrito Spaghetti Squash Bowl is healthy, relatively easy to make and the leftovers heat up beautifully. In other words, it hits all the checkboxes for me! Plus, I love that it is vegetarian because I try to incorporate a few meatless meals in my monthly rotation.
While you can certainly add meat, if desired, this is also an extremely hearty meal too, which I love. I have a big appetite so I look for dishes that have a lot of substance with a reasonable amount of calories. This Burrito Spaghetti Squash Bowl is packed with plenty of good-for-you veggies and is relatively low carb.
This has become one of my go-to lunches. It satisfies me without being too heavy, which is also important. I want lunch to fuel me for the afternoon, rather than make me sleepy! It reheats great, which is key for me. I want to eat a healthy lunch, but one that doesn't take long to prepare (this is a make-ahead meal for me) and this fits the bill perfectly. When avocados are on sale, I like to whip up a batch of guacamole to enjoy with my burrito bowl. It takes it from delicious to out of this world!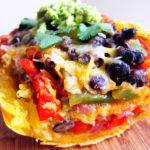 Print Recipe
Spaghetti Squash Burrito Bowl
Ingredients
2

medium sized spaghetti squash

see notes

1

tablespoon

vegetable or canola oil

1

14.5 ounce can black beans, drained and rinsed

1

cup

salsa

1

tablespoons

extra virgin olive oil

1

green bell pepper

sliced

1

red pepper

sliced

1

large red onion

sliced

2

garlic cloves

minced

2

jalapenos

cored and sliced (optional)

1/2

cup

fresh cilantro

chopped

6

green onions

sliced (optional)

1

teaspoon

cumin

salt & pepper

2

cups

Mexican Cheese Blend

shredded

Avocados

optional
Instructions
Preheat the oven to 375°F and line 2 cookie sheets with foil. Cut squash in half lengthwise and scrap out the seeds with a spoon. Rub oil on the ends and place squash face down on cookie sheet. Bake for 30-45 minutes or until done.

Meanwhile, in a large skillet over medium-high heat, saute the red onion, peppers and jalapeno in extra virgin olive oil and cook for 2-3 minutes. Stir in garlic and cook for another minute, stirring occasionally. Add salsa, cumin and salt and pepper to taste and cook to desired doneness.

When the squash is done cooking, allow it to cool for a few minutes before handling. Scrape about 3/4 of the inside into a dish. Place a layer of pepper mixture, black beans and cheese in each squash bowl. Top with the spaghetti squash and another layer of pepper mixture, black beans and cheese.

Broil in the oven for about 5 minutes until the cheese is bubbly and golden brown. Top with green onion, cilantro and avocado slices (or guacamole) and serve immediately.
Notes
Depending on the individual, they may eat the whole spaghetti squash bowl or half of one, like me. Recipe slightly adapted from Making Thyme for Health.
Enjoy!
Tanya